Search3w will be have a booth at JCON 2019
The 6th annual JCON-eCommerce Expo & Conference is the premier  e-commerce conference of the Tri-State Jewish Community & will be attended by a thousand attendees from across the tri-state region. Established and early stage Amazon Sellers and E-tailers with a combined buying power of $5BN will meet exhibitors and attend seminars to learn about the many resources and services available.
If you wish to buy a ticket contact us for discount.
Images from last year: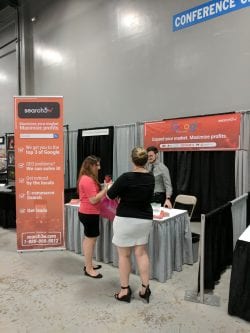 There will be 4 separate tracks offered at the seminars portion of the event.
1. E-Tail,
2. Amazon Level Private Label,
3. Amazon Reseller,
4. Business Development.
The program will include Top Speakers, Breakout sessions, CEO round table, full buffet dinner and valet parking
Industry trade show will include over 70 vendors, and great networking.
Exhibitors are expected from many segments of the e-commerce industry including: Wholesalers & Suppliers· Software solution· Branding· Accounting· Marketing· Legal Council Financing· Shipping ·Photography ·Packaging supplies ·Fulfillment ·Technology & IT