Search3w weekly team meeting is a key forum, where the team comes together to discuss client cases, and follow-up progress. This is the master SEO to-do list we are working on:
Adding URL to Google for Webmaster Tools and optimize all its features
Adding a Profile on major directories
Collect & analyze data to find how the top 10 competitors got their position and build our famous "hit the soft belly" tactic. We need 10 years of historic date and we are using Majestic SEO,  MOZ reports, SEMrush and proprietary tools
Adding inter links using the "MIT ring theory"
Do "shopping" for high quality text links
Gain kosher .EDU and .ORG links (yes, you can and have to do it "white-hat")
Zero moment of truth (ZMOT) tactics
On-page SEO, site navigation and architecture
Simulate Google crawl using Unix crawler and Unix browser
Set and Enhance Google Analytics profiles and conversion goals
Work to increase Links between the web pages ("hyperlinks")
Set and Enhance the locations on Google Maps
Set and Enhance Google Business profile and G+
Work on social media (Facebook, twitter, etc)
HTML micro data and schema.org tags creation
Earned Media: InfoGraphics, Content writing, Blog promotion and Classified Submissions
Get as many Dofollow links from Bookmarking websites like Pinterest, Reddit, Delicious and Stumbleupon
Who's Doing What?
Ravi – Research & Development
Daniella – Media ads & Digital media
Mark – ZMOT & project management
Justin – Off page optimization
David – Social media
Yeshourun – Web design & PHP development
Elchanan – I'm doing all the rest!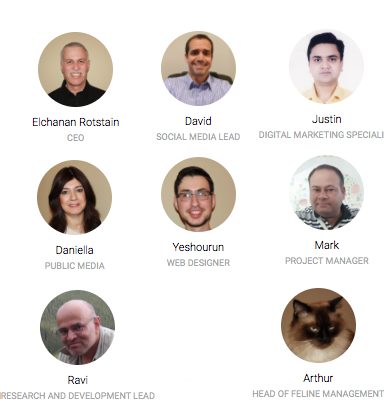 The Tools We are Using
Majestic SEO
Firebug
MOZ
Screaming Frog
Spyfu
WebCEO
Google for Webmaster Tools
Microsoft Webmaster Tools
SEMRush
Google AdWords tools
Sprout Social
Unix browser
Unix Crawler
Wordtracker
Compete.com
DoubleClick Ad Planner
Google Insights
XENU
Per country tools – We have special tools for USA, Canada, France, Germany, Austria, Italy, UK and Israel

Next